You'll find all your EE TV settings in the TOOLS & HELP menu.
Open your SETTINGS menu
Press the MENU button on your EE TV remote.




Press the up arrow on your remote (that's the one above OK) to highlight the top menu.
Move over to TOOLS & HELP by pressing the right arrow.
Press the down and right arrow to highlight SETTINGS and press OK.




The settings screen will appear.



What will I find in SETTINGS?
From the SETTINGS menu, you'll find:
INFORMATION & STATUS
The INFORMATION & STATUS screen has a number of useful options: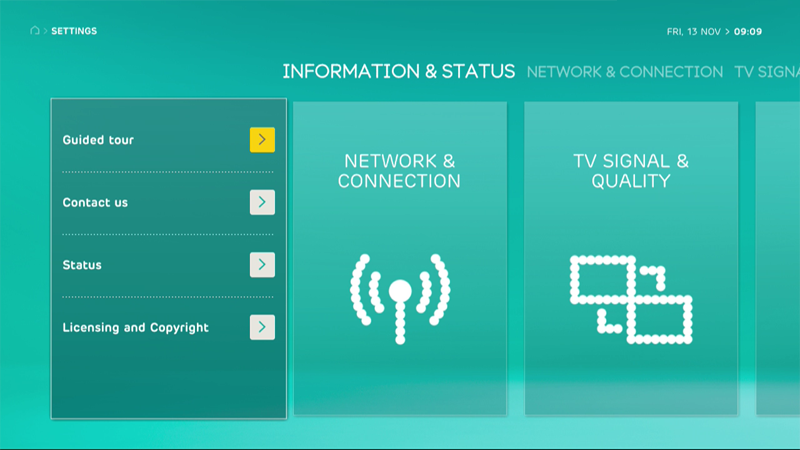 Guided tour - play a short video which gives you a quick guided tour of EE TV
Contact us - gives our contact numbers if you need to get in touch
Status - shows useful information about your EE TV and connection
Licensing and copyright - includes terms and conditions and information about the GNU public licence
NETWORK & CONNECTION
NETWORK & CONNECTION shows if you're connected to the internet and which type of connection you're currently using.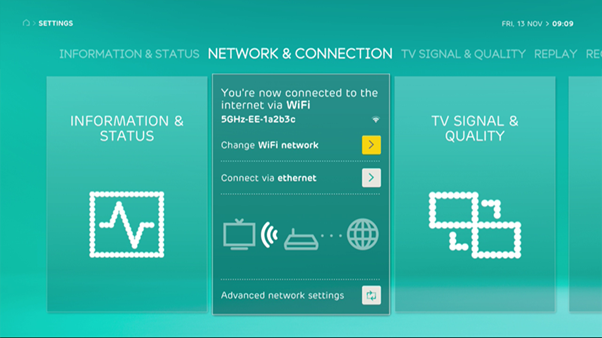 You can also:
change or set up a WiFi network
connect via Ethernet
You'll also find Advanced network settings. You'll only need to go here if you have an advanced home network which needs specific IP, DNS or proxy settings.



TV SIGNAL & QUALITY
TV SIGNAL & QUALITY shows you how many TV channels and radio stations are currently tuned in.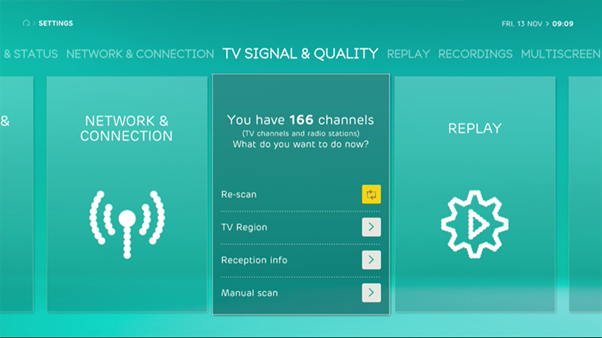 You can also:
look at reception info
complete a manual scan
 
REPLAY
REPLAY settings let you change settings to include:
REPLAY DURATION - change how long Replay programmes are available for, or turn Replay off (so that you can record up to four programmes at once)
REPLAY GROUP - change Replay channels between HD Channels (High Definition) or SD channels (Standard Definition)
REPLAY CHANNELS - check and change your eight standard definition (SD) or six HD Replay channels. You can now also filter the type of shows you want in Replay. So if you're only interested in movies, drama or sport, you can filter out the shows you don't want.


RECORDINGS
From RECORDINGS you can do the following:

see how many recordings have been made on your EE TV box
see how many recordings are scheduled
You can also:
add extra recording time to the start beginning and end of your recordings (just to be on the safe side)




cancel scheduled recordings for your EE TV box




delete all recordings on your set top box





MULTISCREEN
From MULTISCREEN settings you can:
turn on EE TV app user settings so your EE TV box won't go into Eco mode
see many devices are paired with your EE TV box
change your EE TV box name (that's the one you'll see when connected to your app)


LOCKS
The LOCKS menu lets you:
ACCESSIBILITY
ACCESSIBILITY settings let you turn on and change subtitles and an audio description settings.
SOUND & PICTURE
SOUND & PICTURE settings let you change the HDMI video resolution for your TV, your audio output mode and also the video format.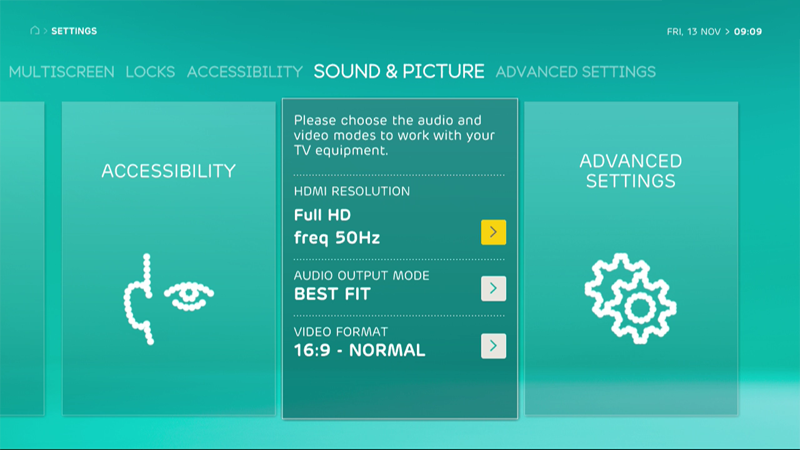 ADVANCED SETTINGS
ADVANCED SEETINGS let you do the following:
connect to our services (you can use this to check your internet connection is working or our customer support team may ask you to do this)
change idle time before standby
check your hard drive - if you're having problems with Recording or Replay
restore settings - if you're having problems with your EE TV
format your hard drive - if you're run out of space or you're having problems with Recording, Replay or Restart