You can now buy the Samsung Galaxy S10, S10+ and S10e. But what's the difference between each phone, and which one should you go for? To help you make the choice, we've highlighted the best features on each device: 
Samsung Galaxy S10+
As the name suggests, the Galaxy S10+ is the biggest of the three phones. It features a 6.4-inch curved Infinity-O Display, which is designed differently to past Galaxy displays.
Samsung's new display has no notches and no big black bars running across the top of the screen. Instead, there's just a small black cut-out on the top right-hand corner of the screen that houses two front-facing cameras. This new design frees up even more space to display content, and on the S10+'s larger display your photos, videos, games and webpages will look incredible.
If your phone is primarily used as an entertainment device, keeping you captivated on your travels or instead of a TV or tablet, the S10+ is likely to be your top choice.
But entertainment is just half of the story. With so much power packed inside the Galaxy S10+, it also leads the way if you're looking for a phone to help you boost your productivity and get work done on the move.
All three Galaxy S10 smartphones come with at least 6GB RAM and 128GB of built-in storage, but you can choose to upgrade to more powerful models (and add extra space via MicroSD). The S10+ comes in a colossus 12GB RAM and 1TB version, which gives you seriously powerful computing power in your pocket. What's more, the Galaxy S10+ also comes with a larger capacity battery, so you can stay productive for longer without having to reach for the charger. If business smarts are a key consideration, the S10+ takes the gold medal.
One final key difference to consider is in the camera. The Galaxy S10+ features an additional portrait lens on the front designed specifically for creating stunning selfies with creative background blur effects.
So if you shoot lots of selfies to share on social networks, the Galaxy S10+ might be the right choice for you.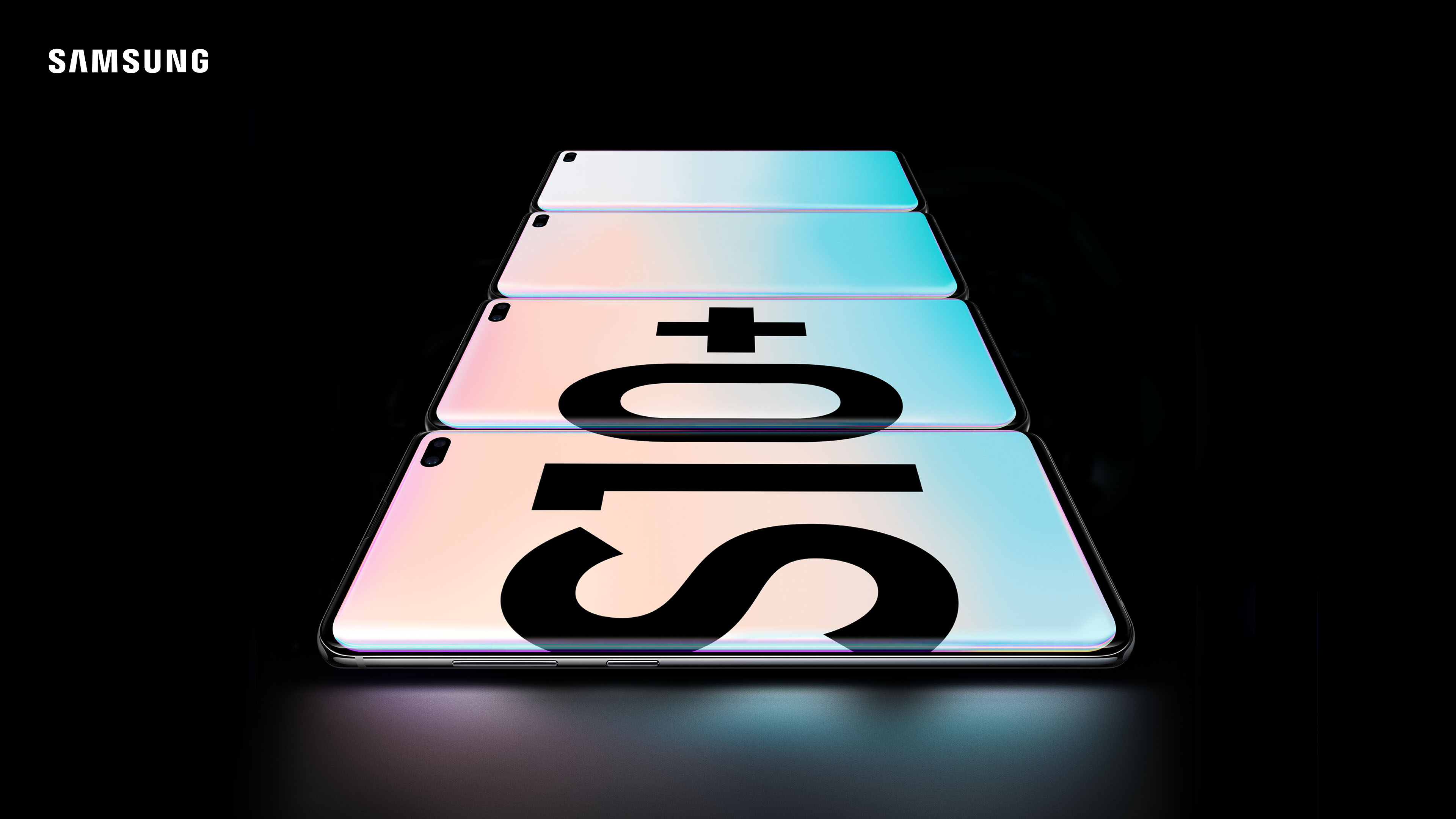 Buy the Samsung Galaxy S10+ here >
Samsung Galaxy S10
The Samsung Galaxy S10 packs in many of the same features as its bigger brother, but within a smaller body which might be a better fit for your hand, pocket and lifestyle.
A 6.1-inch curved Infinity-O Display offers an almost completely uninterrupted view of your content. Again, there are no notches or big black bars getting in the way of your webpages, photos, games and videos – just a small dot in the corner of the display that houses a single front-facing camera for selfies. 
And just like the plus-sized phone, the Galaxy S10 also features the same cutting-edge technology that will enhance your experience with the phone, including a handy PowerShare feature and Ultrasonic Fingerprint Scanner. You can even opt for an S10 with extra RAM and internal storage – up to 8GB RAM and 512GB of space (you can add another 512GB via MicroSD too).
While the Galaxy S10+ may have an extra front-facing camera, bigger battery capacity and the option to boost memory and storage capacity up to 12GB and 1TB respectively, display and body size are likely to be your key considerations when choosing between the S10 and S10+.
Do you want a bigger phone with a larger display that supersizes your content, or is having a compact phone more important to you?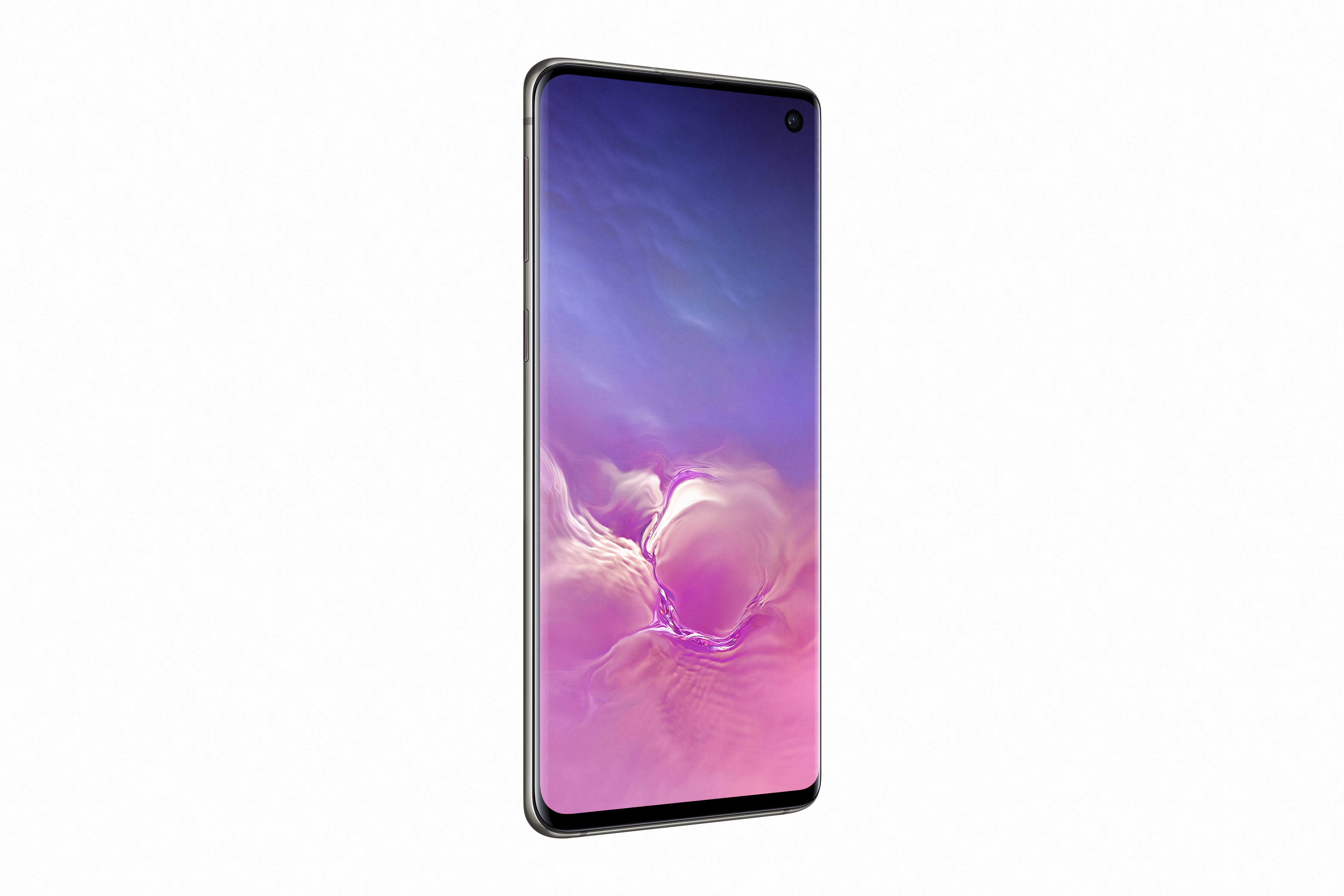 Buy the Samsung Galaxy S10 here >
Samsung Galaxy S10e
Looking for something even more compact than the Galaxy S10? Well, for the tenth anniversary of the Galaxy S series, Samsung has introduced a new smartphone – the Galaxy S10e.
Sporting a 5.8-inch flatscreen Infinity-O Display, the S10e blends great looks with a compact design.
If you're a fan of easy-to-handle flatscreen phones, the Galaxy S10e is a top choice. It's super-simple to use, with a fingerprint scanner on the side that lets you unlock the phone while holding it naturally – so no more rummaging for the scanner on the back.
Plus, like you can with the S10 and S10+, the S10e features PowerShare, which lets you boost the battery of your Galaxy Buds, Galaxy Watch, or a compatible phone simply by placing the two together.
The Galaxy S10e features two cameras on the back, including a 16-megapixel ultra-wide lens and a 12MP ultra-zoom lens, for sweeping landscapes and detailed close-ups. And there's a 10-megapixel front-facing camera for eye-catching selfie shots.
If having a phone that's easy to handle and that fits seamlessly into your life are key considerations, the Galaxy S10e is well worth checking out.
If you're a casual photographer, the phone's camera capabilities should help you produce some stunning shots; though if you're more serious about your photography and want to produce photos with blurred backgrounds, you may want to consider the S10 or S10+. All three phones feature 4K Ultra High Definition video recording via the front facing camera for unbeliveably detailed video clips and video calls. 
The Galaxy S10e is a powerful phone too, with 6GB RAM and 128GB internal storage space. And you can add up 512GB of extra content via MicroSD if you have a large library of videos, photos and music.
Ultimately, the Galaxy S10e is the right choice for you if you want a compact phone, prefer flat screens to curved ones, and can live without the additional cameras and display size on the S10 or S10+.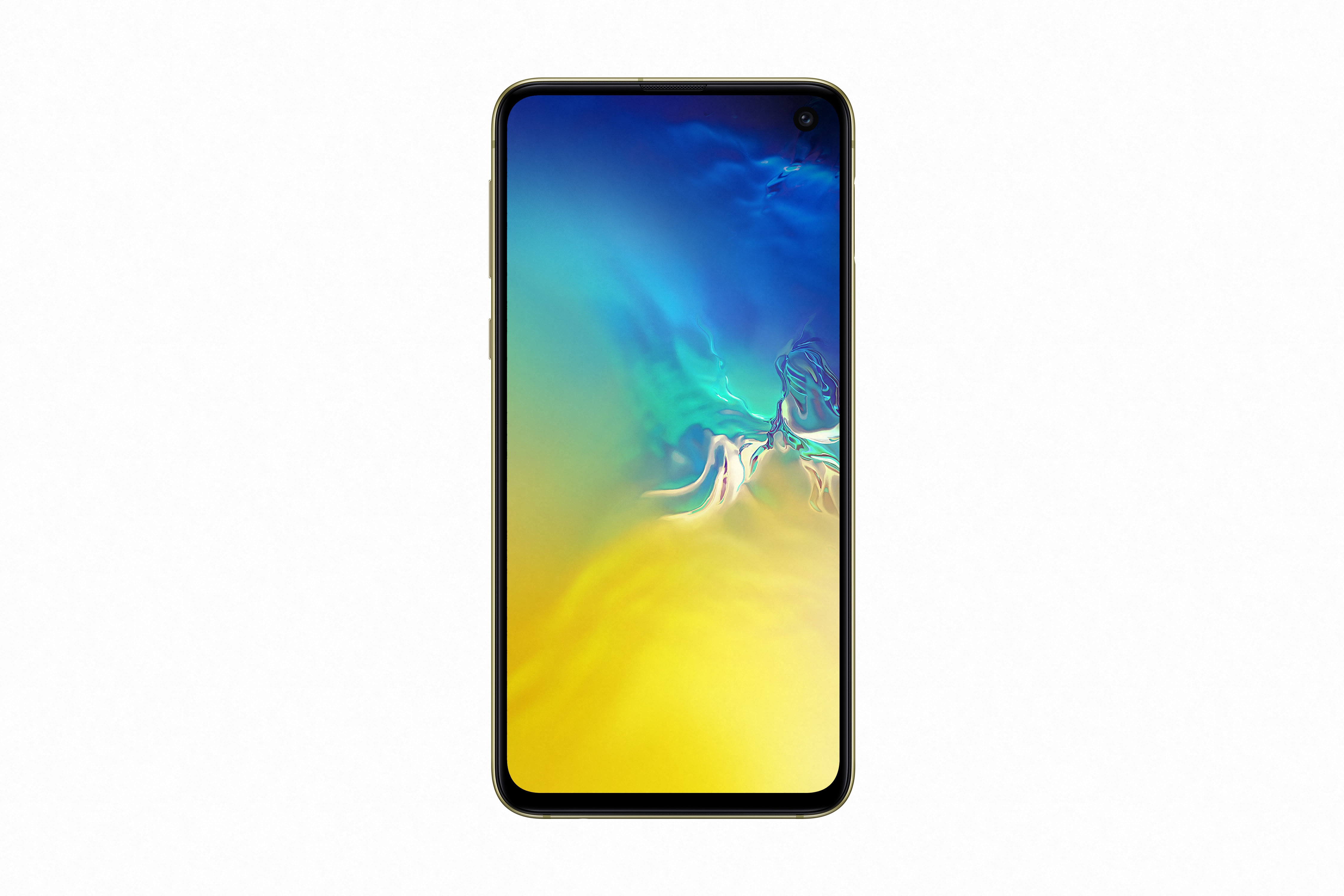 Buy the Samsung Galaxy S10e here >