To select viewfinder or clock, press MODE/SLEEP repeatedly.
When in clock mode, press PREV repeatedly to go through clock functions.
To set current date and time, press and hold SET, then press VIDEO to make changes and NEXT to scroll. Confirm by pressing SET again.
Pairing your Viewfinder Watch with the camera
To pair to the camera, go to Pairing in the camera menu and select WATCH.
Press and hold PHOTO and VIDEO together to turn off pairing with your camera and switch on WiFi pairing to MOBILE.
Charging your Viewfinder Watch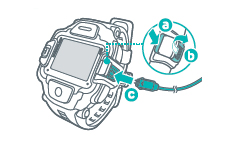 Press the cover lock a to release the protective cover.
Flip open the protective cover b and insert the watch charging cable into the charging port c.
Please note: always insert the charging cable with the arrow pointing upwards.