To set up your new Capture Cam, watch our video or follow the steps below.
Setting up your camera
1. Turn your camera upside down.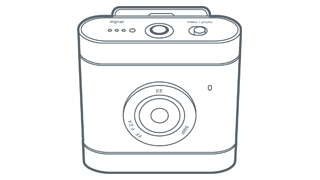 2. Put your fingernail into the notch, and carefully flip the camera cover over.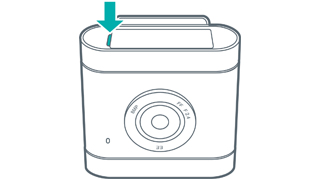 3. Slip in the nano-SIM card with its cut corner on the lower right and its metal contacts facing towards the camera clip. Push it down it until it clicks into place.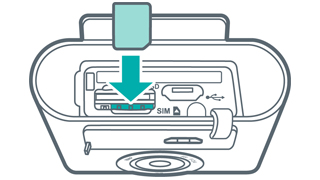 4. (Optional) If you have a microSD card, insert it into the microSD card slot until it clicks into place.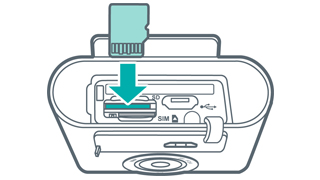 5. To charge your camera, insert the smaller end of the USB cable into your camera's micro USB port.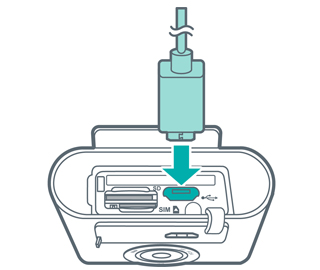 Standard 5V/1A charging head required. 
You can buy a power adapter separately at accessories.ee.co.uk
Attaching your accessory adaptor
1. Pinch the plastic clip and slip in the accessory adaptor.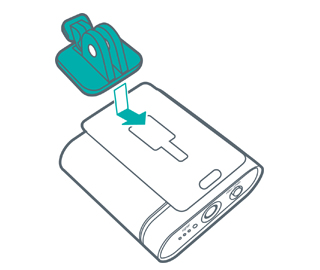 2. Attach the screw-lock type accessory*. Pinch the plastic clip and slide back to remove.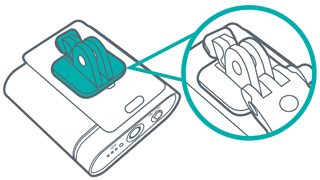 * You can buy the following accessories for your 4GEE Capture Cam from the EE accessories page:
head strap
chest mount
bike mount
adhesive mount set
helmet mount
vehicle mount
surf mount
You'll need to use the accessory adaptor to attach any of these to your camera. The adaptor and a 'How to' guide are in your camera's box.
Once you've attached the adaptor to the back or base of your camera, you can connect it to the accessory and lock it into place.
To remove the adhesive mounts, you can use a hairdryer or heat gun to soften the adhesive and slowly peel back.
Please note: you won't be able to re-use an adhesive mount once you remove it.
Other tips:
when using surf boards and the surf mount, don't mount to soft-top boards as they are porous and the mount will not adhere properly
when using adhesive mounts on helmets, don't mount to textured surfaces as the mount may not adhere as well
we don't recommend using adhesive mounts on skis or snowboards as the flex and vibration caused can sometimes lead to the mount coming loose.
Failure to follow these guidelines may result in loss or damage of your camera which is not covered under warranty.