In the upper-right corner of the page, you see the user name you signed in with.


 
When you click the arrow next to your user name, the following options appear:
Change password
Select this option to change your password. The Change Password page appears.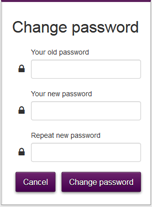 Type your current password in the first box, type your new password and confirm it. Select Change Password.

It is recommended you change the default password settings.
Choose a password you can easily remember. If you forget your password the only option is to reset your Technicolor TG589 router.
Sign out
Choose this option to close the session and sign out.