Rewind and pause your EE TV
Need to put the kettle on? Perhaps a friend called your phone and you want to rewind back a few minutes? It's easy with EE TV. You can pause and rewind the channel you're watching for up to 3 hours. Or, if you've chosen as one of your Replay channels, you can rewind up to a day.
Pausing a live programme
Simply press the play/pause button on your EE TV remote to pause or play live TV.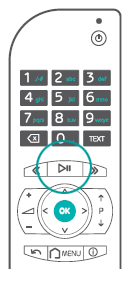 Rewinding a live programme
To rewind a live programme:
Press the rewind button on your remote




To increase the speed you're rewinding at, press the button again




Press the play/pause button on your EE TV remote, at the point you want to watch




If you go too far, use the fast forward button
Rewind using Restart
You can also use Restart if you have Replay turned on. So, if you tune in halfway through a programme you can skip back to the beginning. When you see the Restart icon:
Press the OK button on your remote
The options menu will open
If Restart is available on the channel, you'll see the Restart icon
Press the left arrow to highlight Restart and press OK




EE TV will take you back to the start of the programme
Or
While browsing through your timeline, you'll see the Restart icon
Simply press play on your remote to watch the programme from the start




You'll also see the icon from your channel bar menu




You'll also see the icon from your TV guide