Samsung's cameras have had a facelift on their recent flagship phones. You're no longer limited to taking a simple snap that just fits your face in the frame.
So if you're having a family get-together, partying with friends or shooting a selfie with a famous landmark in the background – here's how to take better front-facing photos.
Use Wide Selfie to fit everyone into the photo
The selfie camera was only really designed to fit one face in the frame. Squeezing more people into the photo often meant awkward angles and the dreaded selfie stick making an appearance.
Thankfully Samsung have made things much easier.
Simply open the selfie camera on your Samsung smartphone and select Wide Selfie mode from the list of options at the top of your display.
Wide Selfie opens-up the borders of your photo, giving you a 120-degree wide angle to play with. Now you can pan your phone from side to side to fit more people into the picture.
Fit the whole family into your photos at Christmas, get all your friends into the frame on a night out, and capture expansive landscapes in the background of your selfie.
Focus the frame hands-free with gestures and voice control
Performing the seemingly simple task of pressing the shutter button can prove tricky when you're holding your phone at an awkward angle high above your head. But sometimes that's the only way to fit everyone into the photo.
With gesture and voice control, your Samsung smartphone takes photos without any pressing involved. It's the easy way to take selfies and it means there's no out-stretched arms in the shot.
Open your selfie camera and press the on-screen Settings icon (the one that looks like a mini cog). Then select both Show Palm and Voice Control. These options will set the camera to take a photo whenever you show your palm to the camera or say "cheese", "smile", "capture", or "shoot".
Voice Control works particularly well with group shots, because when everyone says "smile" or "cheese" together it usually results in a happy and cheerful looking photo.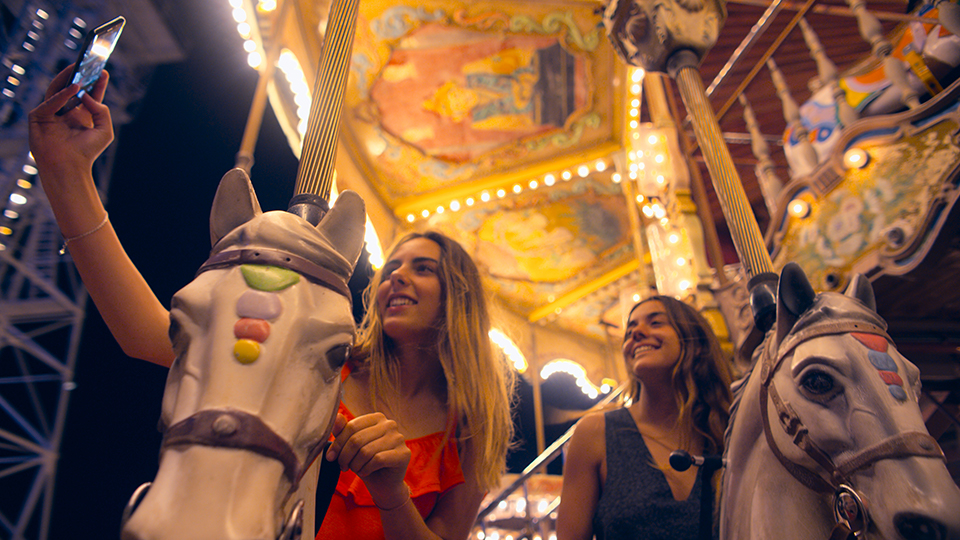 Take group photos from a distance with the S Pen
Unless you've got seriously long arms or use a selfie stick, you're not going to be able to take group shots that capture everyone from head to toe.
But the Samsung Galaxy Note9 can. That's because it features something no other smartphone has.
The Note9's Bluetooth-enabled S Pen lets you use it as a remote control, so you can take selfies from up to 10m away. Place your Note9 somewhere secure and get your group in position. Then when you're ready, click the button on your S Pen.
Automatically improve group shots with Face Shape Correction
When there's lot of people in the frame, chances are someone will move just as the photo is taken. Tiny movements can have a dramatic impact on the overall image quality, so turn on Face Shape Correction in the Settings menu to automatically correct facial shapes that appear distorted.
Snap superior selfies
Looking to get creative with your group shots? Taking a romantic shot with a loved one in front of a famous landmark?
Selfie focus lets you blur the background, so the focus is on the faces in the frame. While using this option, you can also edit and adjust skin tone and colours, giving you photos that really stand out. Just open up your front-facing camera and select Selfie Focus from the list of options at the top of the display.
More editing options, including augmented reality effects and filters, are available under Selfie mode if you want to take more light-hearted selfies of you and your friends. Have a play around and get creative.