Five things we love about the Galaxy Note10+ 5G
7 August 2019
There are loads of fantastic features we love about the new Galaxy Note10+ 5G, but these are our top five favourites.
It's 5G
Now that 5G is available on our network, why would you choose anything but a 5G enabled device? With the Samsung Galaxy Note10+ 5G you can enjoy a more reliable connection in the busiest places, faster mobile speeds than ever before and an almost instant internet connection. Even video calls will be smoother and better, whether you're on a moving train or in a packed stadium.
Innovative design
It's not just the sleek curves and choice of colours that make the Samsung Galaxy Note10+ 5G so desirable, it's the practicality of the design too. A 6.8-inch edge-to-edge screen makes it easy to view movies and TV series on the move. And Gorilla Glass 6, the toughest glass available on a phone, will ensure it stays looking its best for as long as you need it to. It's available on an EE pay monthly plan in two colour variants - buy it in Black or buy it in Glow.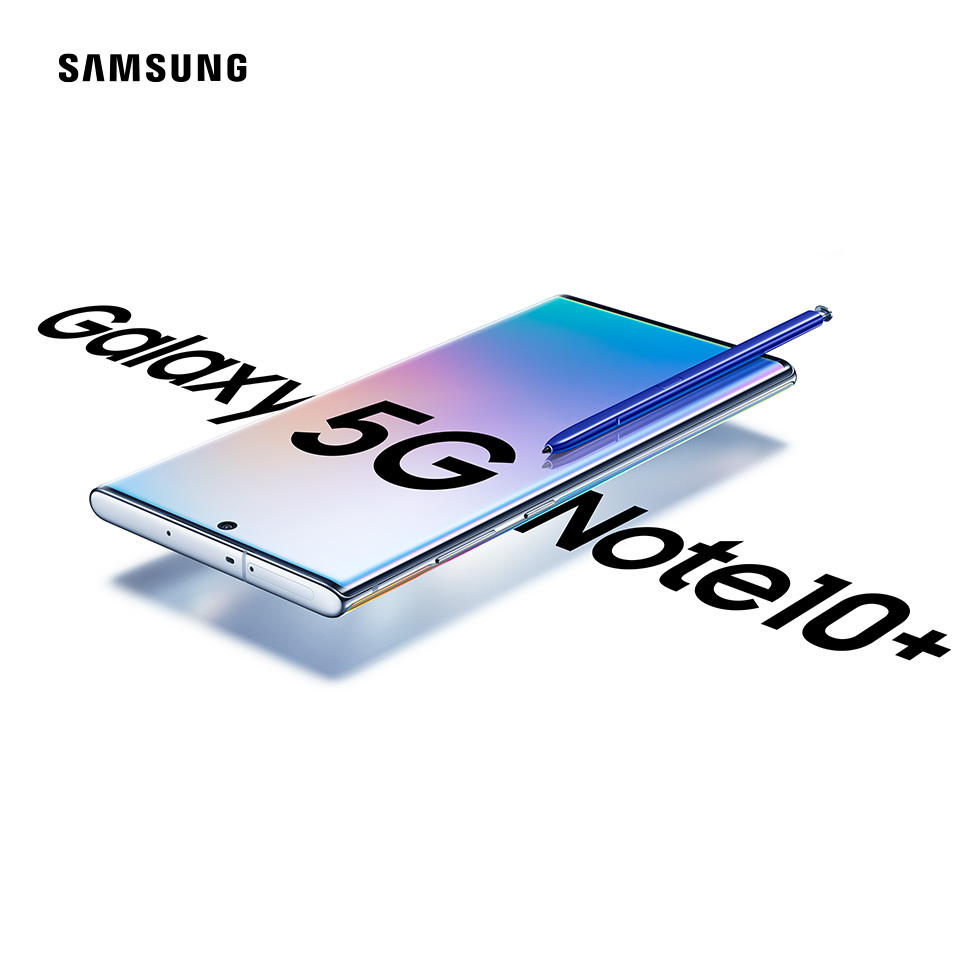 An improved S Pen
The all-new built-in S Pen lets you scribble down multi-coloured notes in seconds, and you don't even need to unlock the phone to use it. It even has some funky new sounds, depending on which 'pen' you're using. And if you want to take some photos without being behind the lens, you can zoom in or out and snap a group selfie in a single click.
Fast charging as powerful as 50W
There's no need to hang around waiting for your phone to charge up. And if you run out of battery while you're out and about, there's a simple solution. Enhanced fast wired and wireless charging options are available on the Samsung Galaxy Note10+ 5G, so you can be fully charged in 30 minutes using the wireless charging pad, or you can just place it on top of someone else's PowerShare enabled phone and take some of their charge. And as the Note10+ 5G learns your routine, it redirects power from apps you're not using to preserve battery life.
Camera
Take your best pics on a phone ever, no filter needed. The Samsung Galaxy Note10+ 5G has a lens for every occasion, so your photos and videos will come out just the way you want them to. The camera is smart enough to judge depth and distance, capturing and measuring everything in amazing detail. There's even an editing suite, Adobe Rush*, already installed, so you can give everything you create a professional finish.
Check out the new Galaxy Note Series, along with all the other Samsung devices, in our shop.
* Adobe Rush is free on Creative Cloud with 3 exports. Afterwards subscription is required and Samsung customers receive a 20% discount until 31/1/2020.