Samsung has unveiled its latest line up of phones, tablets and wearables. The star of the show was undoubtedly the two new Galaxy Note20 smartphones, but the Galaxy Watch3 4G is also sure to be a big hit, alongside new Galaxy Tab S7 and S7+ 5G tablets and Galaxy Buds Live.
Galaxy Note20 and Galaxy Note20 Ultra 5G
Samsung's Galaxy Note series has a history of delivering powerful and creative smartphones designed to boost productivity. The Galaxy Note series is famous for its large displays and handy S Pen, useful for working and getting creative on the move.
The Galaxy Note20 series comprises two smartphones – the Galaxy Note20 and Galaxy Note20 Ultra 5G. Both are productivity powerhouses, but there are some key differences between the two smartphones, mainly around the design, displays and cameras.
As you'd expect, the Galaxy Note20 Ultra 5G ups the ante, with higher specs and more power under the hood, including a huge pixel-packing 108MP rear wide lens alongside 12MP ultra-wide and 12MP telephoto lenses on the back, as well as a 10MP front-facing camera.
The Galaxy Note20 has a 64MP telephoto lens, alongside two 12MP rear-wide and ultra-rear-wide lenses. The Galaxy Note20 Ultra 5G can zoom in up to 5x optically and has a 50x Space Zoom for getting unbelievably close to all the detail. The Galaxy Note20 has a 3x hybrid zoom and 30x Space Zoom.
The Galaxy Note20 Ultra 5G has a 6.9-inch curved display, while the Galaxy Note20 sports a 6.7-inch flat screen. It's a question of personal preference – photos and websites flow nicely off the curved screen, but a flat screen might be less prone to accidental touches and drops.
The Galaxy Note20 Ultra 5G has a larger battery to power its slightly bigger display, as well as 12GB of memory on board, compared to the Galaxy Note20's 8GB. The Galaxy Note20 Ultra 5G also features a 120Hz dynamic refresh rate, which makes scrolling and gaming feel smoother than ever – if you're a keen mobile gamer the Galaxy Note20 Ultra 5G will help give you that extra competitive edge.
Both smartphones feature 8K video recording for rich, detailed mobile masterpieces. And, of course, the mighty S Pen is present on both – simply pop it out the bottom of the phone to start getting creative, edit documents, easily create gifs and take photos without having to hold your phone.
Galaxy Watch3 4G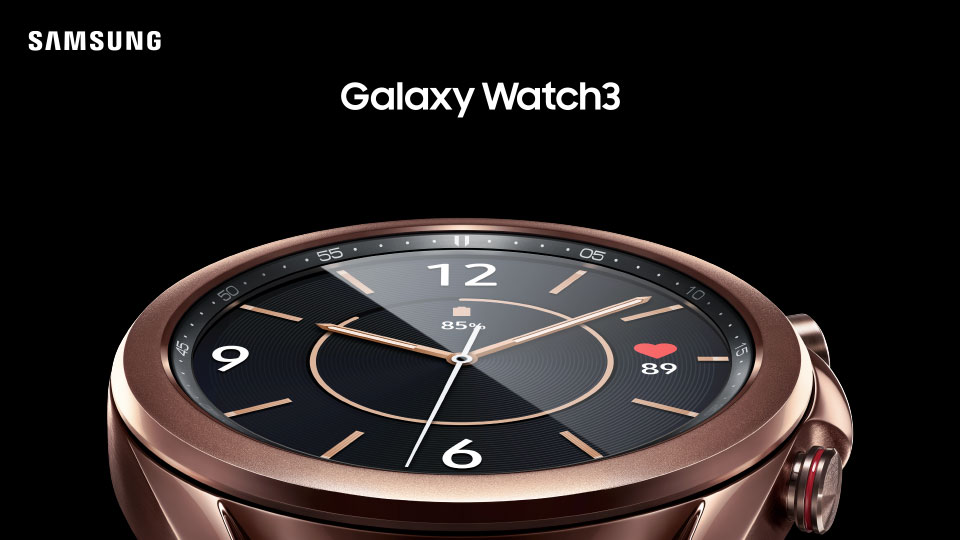 The highly anticipated Galaxy Watch is back. Ever since the original Samsung Gear S3 smartwatch burst onto the scene with its big, bold design and innovative rotating bezel, this stylish wearable has been a big hit with watch wearers.
Now this year's Galaxy Watch3 4G builds upon all the great features found on the original Galaxy Watch with a refined design, improved tracking for lots of sports, and the return of the rotating bezel.
With a classic style, the Galaxy Watch3 4G can be worn throughout the day, whether you're at work or playing outdoor sport. It comes in two sizes (41mm and 45mm) and three colours – black, silver and bronze (41mm version only). And being a 4G watch, you have complete control from your wrist. Use the Galaxy Watch3 4G to stream music, pay with a tap, download apps and make and take calls and messages without having to carry your phone.
The Galaxy Watch3 4G is water resistant to 5ATM, so you can keep it on in the pool while tracking your lengths and wear it in the shower. Plus, with 8GB of storage built in, you can store music and photos directly on the watch – and use those photos as watch faces. Of course, you can download watch faces from the Galaxy Wearable app too, including new animated designs that keep your wristwear looking fresh.
Galaxy Tab S7 and Tab S7+ 5G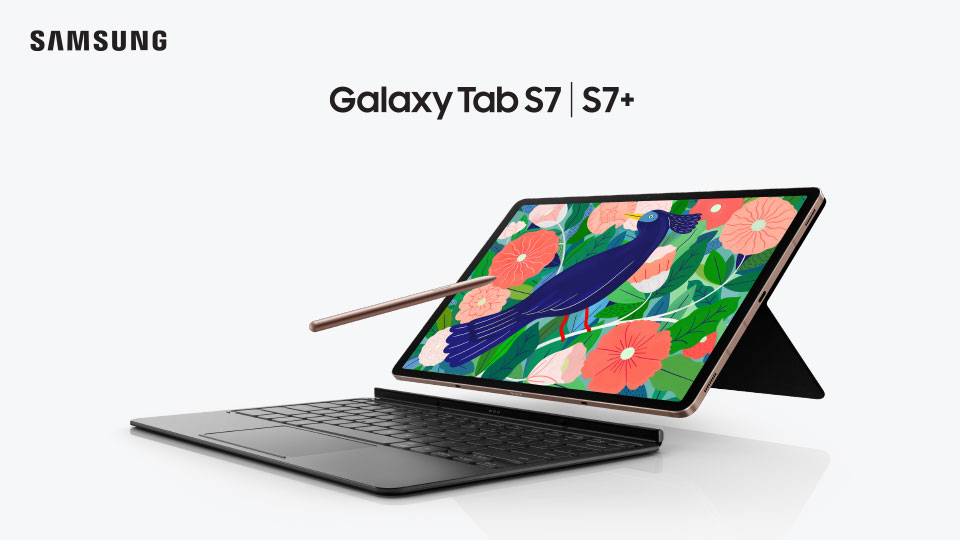 The Samsung Galaxy Tab S7 and Galaxy Tab S7+ 5G let you leave your laptop at home and stay productive and entertained on the move. There are two sizes to choose from, the Galaxy Tab S7 features an 11-inch display, while the Galaxy Tab S7+ 5G has a huge 12.4-inch screen.
These big and bright displays make your films, photos and games look stunning, and the high 120Hz refresh rate means games feel smoother and more responsive than ever.
Besides screen size, the other key difference between the two tablets is how they can connect to our award-winning data network. As the name suggests, the Galaxy Tab S7+ 5G supports 5G, so now you can stream content more reliably and download films and TV shows faster when connected to our superfast 5G network.
Both tablets also come with the Bluetooth-enabled S Pen, which makes editing documents a doddle and jotting down notes and sketching ideas quick and easy. Plus, if you're working on bigger files, multiple apps and software programs, or just want a physical keyboard to type with, you can connect your tablet to the Book Cover Keyboard (sold seperately) to switch on Samsung DeX and enjoy a desktop-like experience that lets you use a trackpad, keyboard and multitask with multiple windows. Split View is a useful feature too that lets you slice up your screen so you can work on a document or watch a video while reading a website or posting to a social networking site.
Galaxy Buds Live
Samsung's latest true wireless earbuds deliver an immersive listening experience to bring your sound to life. Enjoy deep, rich audio with Active Noise Cancellation, which blocks out unwanted background noise while giving you the ability to tune into the things you don't want to miss. Phone calls sound crystal clear too, with three microphones built into the buds to block out external noise and focus clearly on your voice.
You can enjoy up to 6 hours of uninterrupted playback off a single charge, plus 15 hours extra when charged with the case – giving you up to 21 hours playback in total, based on having Bluetooth and Active Noise Cancellation turned on and the Always-on Mic switched off.
Simple, stylish and comfortable – Galaxy Buds Live are a great new addition to the Samsung line up.