By Marc Allera, CEO of BT's Consumer division (EE, BT and Plusnet at BT Group)
More than 100,000 people have attended Mobile World Congress in Barcelona this week. And all the talk is about 5G becoming a reality. Our ambition is for EE to be the first operator in the UK – and maybe in Europe – to bring this new technology to life.
EE is the UK's biggest, fastest mobile operator. We are constantly innovating to keep the UK at the forefront of technology. We are able to do this because we partner with some of the biggest, most innovative companies in the world. We can achieve so much more and progress so much further, faster together.
It's been an exciting few days at MWC in part because we've seen amazing devices announced by our partners, many of which I'm proud to say we will be ranging with EE:
Samsung Galaxy S10 5G smartphone
Huawei MateX 5G foldable smartphone and the 5G CPE Pro router devices
HTC 5G Mobile Smart Hub
We have an exclusive partnership with LG to launch the V50ThinQ 5G in the UK
I also announced at the end of last year that EE would be the first operator in the world to range the OnePlus 5G smartphone. 5G was the hot topic at MWC in 2016, 2017 and 2018. This year, it's real. The dawn of a new mobile era is here. This year, EE will roll out our 5G network to the busiest parts of 16 UK cities. We're switching on 5G in the busiest locations across London, Cardiff, Edinburgh, Belfast, Birmingham and Manchester as phase one of our launch.
By the end of the year, we will have 5G sites in 10 more cities, and 1,500 5G sites across the UK. These are not brand new masts. They will be built on top of our existing 4G network sites. These 4G sites already make up 8% of our 4G network, but carry 25 per cent of our traffic. This is why we're deploying our 5G network in these areas first. They are where our customers need them most.
Our 5G deployment focuses on where people go. Not where they live. Those 1,500 sites reach 15 per cent of the UK's population. A good example of a site with huge demand for data is London's Waterloo Station. In three months at the end of last year, more than 2.1 million individual customers connected to our network via our sites around Waterloo. 
We're building a 5G network to meet this huge demand – demand that is growing all the time. In fact, we're seeing mobile data use growing at 50 per cent year on year. 5G means we can manage huge capacity and give our customers a faster, more reliable experience in places such as Waterloo: busy commuter stations at peak hours, sports stadiums where thousands of people are on their smartphones, all wanting a seamless connection. We're really excited because 5G opens up new possibilities for where and how customers will get connected – it will be the best mobile experience UK consumers have ever had.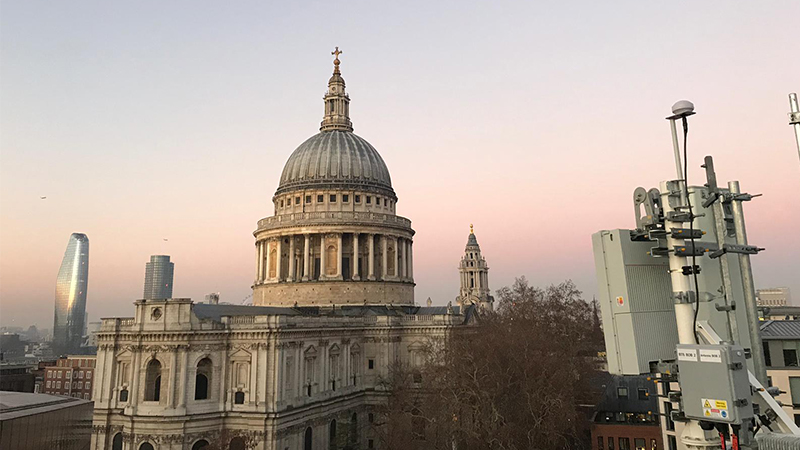 This is one of our 5G sites overlooking St Paul's in the City of London. The tech is here. It's ready to go. We're building a network our customers need to do the things they want to do with their smartphones. And ideas and applications that haven't even been developed yet.
Ever since we introduced 4G to the UK, with one of the world's fastest network rollouts, we've seen data use double each year. Mobile data consumption continues to amaze me at how fast it is exploding.
We can see every day that our customers need greater capacity, greater reliability. 5G is another milestone for the UK and for our network journey. 5G will not replace 4G or WiFi, however. It will be an additional layer of our network. We have an ambition to connect our customers to 4G, 5G or WiFi 100% of the time. Convergence and 5G magic 5G means we will keep evolving. Because it is also a big step towards convergence. Convergence is our ultimate goal, with our single, smart connected network built on 4G, 5G and WiFi capable of keeping customers connected 100 per cent of the time.
Convergence and 5G magic
5G smartphones are being introduced alongside 5G home routers for 5G broadband. We're building a network that can keep up with demand. 5G is a big part of that. It will keep our customers connected to the things that matter to them the most.
For the latest on our 5G plans, follow @marcallera on Twitter and Instagram, register your details here.