We've seen dual cameras and triple lenses, but the Samsung Galaxy A9 is the first smartphone to feature four camera lenses, not to mention the selfie camera which takes the total to five.
With five cameras on board, you can take all types of photos – daytime shots, low-light photos, artistic images… every setting and scenario is covered.
Enhance everyday photos with the Main Camera:  
The 24-megapixel rear-facing lens is your default choice for everyday photos. It features a F1.7 aperture, so it lets in a good amount of light when you're taking photos at night, but the shutter closes quickly to keep unwanted blurring to a minimum. It's the Galaxy A9's best lens for taking photos in low-light conditions and it produces vivid and detail-packed photos in bright conditions too.
What's more, there are several photo features built in that make your smartphone work even harder and produce better photos. The clever Scene Optimiser automatically analyses what's in the frame and adjusts to the most suited settings to enhance colours, bring out extra levels of detail and capture different levels of lighting. There are 19 different 'scenes' to choose from including Food, Animals, Street Scenes and Snow.
Capture close-ups with the Telephoto Camera:
The 10-megapixel telephoto camera is your go-to lens for portrait shots and far away photos where you want to get closer to the action using the 2x optical zoom. With a F2.4 aperture, it's a good choice for bright daytime photos when you want to capture lots of detail on your subject. Whether you're photographing people, pets or products, this lens produces detail-rich pics.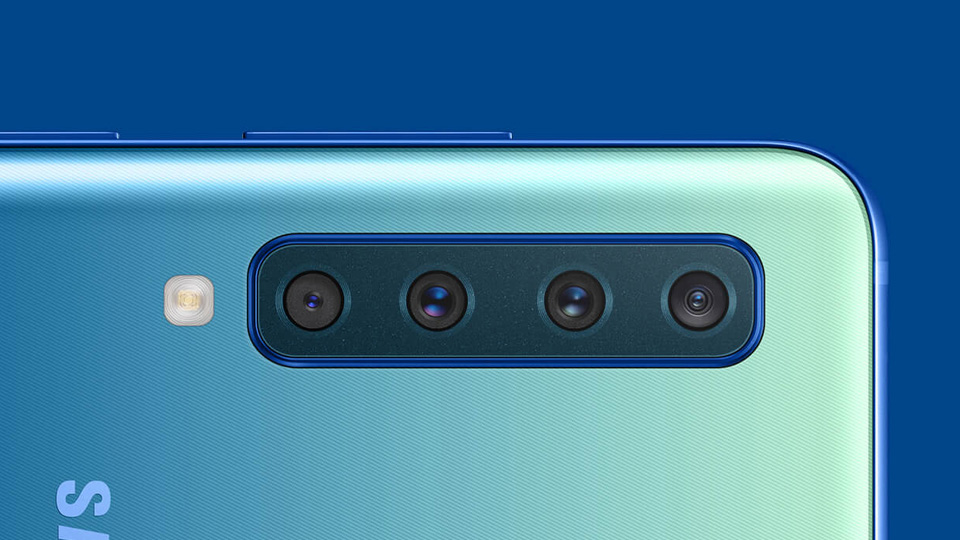 Fit more into your photo with the Ultra Wide Camera:
Stunning cityscapes, beautiful landscapes and fun group shots – the 8-megapixel Ultra Wide lens is the camera to go for if you want to fit more into the frame. With this lens, you can extend your view to 120-degrees, so you can capture more of the scene. Using the Ultra Wide Camera is also the best choice when taking panoramic shots, because it's easier to view and track sweeping landscapes on your phone's display.
You're likely to find the built-in Flaw Detection mode useful when you're taking group shots too, because there's always someone who blinks at the very moment you press the shutter button. Flaw Detection alerts you to issues that affect the quality of your picture, including red eye, blinks, blurs and poor lighting, so you can take another shot before the moment is gone for good.  
Get artistic with your images using Depth Camera:
The 5-megapixel Depth Camera on the back of the Galaxy A9 works together with the main camera to adjust the depth of field in your photos. The lens lets you blur the background of your images to give them an artistic appeal.
This works particularly well when you're taking close-up shots of subjects with interesting environments and quirky backdrops. You can also adjust the blur after you've taken the shot, so you can decide if it looks better with a bokeh effect or revert to the blur-free version.
Stand out on social networks with the new Selfie Camera:
Not to be outdone, the front of the Galaxy A9 also features an incredible camera – a 24MP Selfie lens, dedicated to taking eye-catching personal portraits that stand out on your social sites. Built-in software boosts the Selfie cam's low-light performance, producing detailed photos night and day.
Plus, with Selfie Focus you can even add an artistic hue to your front-facing photos with added background blur. There's also the option to place stickers and stamps on your photos, if you want to add a big dollop of fun to you snaps before posting on social sites.
And if all else fails and you just can't capture the perfect selfie pic, you can always turn yourself into a fun cartoon character using AR Emoji.