Christmas can be hectic. There's so much to do and organise, gifts to get and social events to juggle. But with Samsung tech by your side, you can stay on top of your to-do list and focus on enjoying the holiday season.
Here's our top tech tips to turn your Samsung into your Christmas helper:  

Set reminders so you don't forget a thing

With so much to remember over the festive period things can easily slip your mind, so it's good to plan things out and write them down. But forget sticking post-it notes on your fridge door; record your reminders on your Galaxy Watch 4G and you'll be alerted when it's time to get things done, wherever you are.

Make notes on the fly

Your Samsung smartphone is perfect for taking important notes while you're out and about – particularly the Galaxy Note9 with its handy S Pen. Whether you've had a moment of inspiration while out shopping or discovered a new idea while researching Christmas decorations on the internet, the S Pen lets you write notes directly on the phone's screen even when it's turned off.

Turn your camera into your personal shopper

Did you know that your Samsung smartphone's camera does much more than just take photos and record videos? With Bixby built in, you can do everything from finding the best prices on products to discovering more about which wines to drink around the dinner table – just by pointing your camera.

Turn your camera on and press the Bixby icon (it looks like an eye) on the bottom left of your display. This gives you a number of options – you can scan QR codes and find out further information about food and drink. Plus, if you download the Amazon Assistant app (which is available when you press the Bixby icon), you can take photos of products and Amazon Assistant will quickly find it on Amazon.co.uk, so you easily compare prices.

Keep an eye on your Christmas spending with Samsung Pay

Buying gifts and celebrating Christmas with friends, family and work colleagues can leave a dent on your bank balance that lasts into the new year. But with Samsung Pay you can keep track of your spending. Besides making it quick and easy to pay for everyday items with the tap of your Galaxy Watch 4G or Galaxy phone1, Samsung Pay also gives you an at-a-glance view of all your recent transactions.

Put Bixby Assistant to work

Once you've picked the perfect presents, Bixby also helps you create a warm and cosy Christmas setting. Control your SmartThings-enabled devices using your Galaxy Watch 4G, Galaxy smartphone or Samsung tablet. Add compatible devices to Bixby Home and turn up the heating, control the Christmas lights and switch on the Christmas tunes.

Bixby is also your voice-activated personal assistant, which comes in handy for performing quick internet searches when your hands are full. Need a recipe for a delicious Christmas dessert? Need an answer to a tricky Boxing Day family quiz question? Just ask Bixby.
Keep the Christmas calorie count in check with Samsung Health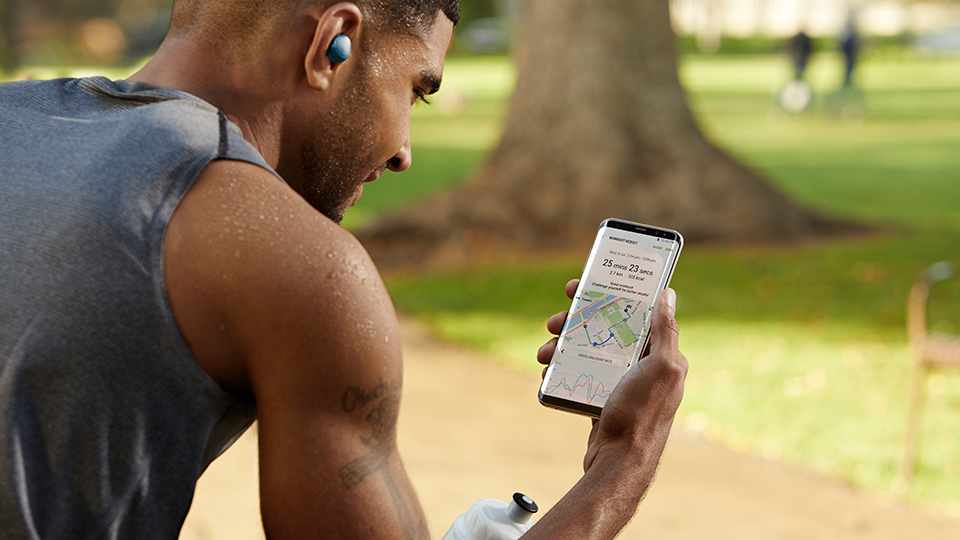 Worried about piling on the pounds over the holiday season? Use the Samsung Health app on your Samsung smartphone to keep count of your calories and track your weight, so you can start the new year in great shape. The Samsung Health app also works with your Galaxy Watch 4G, so you can keep track of your steps and calories burned wherever you are – and up your exercise to counteract any of those tasty treats and big nights out over Christmas.

Explore a Christmas cove of Android apps

If you've got lots of Christmas parties to attend over the festive period or you're organising the office's secret Santa, there are plenty of Android apps you can download to your Samsung smartphone to help you make sure everything runs smoothly.
Check out the Cash App, which makes it easy to send money to friends and colleagues using just their email address or phone number. It makes paying people back for taxi fares and Christmas drinks much simpler.

Plus, you can make splitting bills easier with apps like Splitr, which calculates the tip and who owes what when you all go out for a festive feast.

A simple secret Santa app is well worth downloading too, which randomly decides everyone's secret Santa as well as outlining the rules and spending limit.

Take a look around the Google Play store for lots of useful apps to help you wrap up Christmas on your Samsung tech this year.

Get gift inspiration this Christmas >

1Available with participating networks, banks and merchants on selected devices, on NFC terminals. A limit of £30 may apply, based on merchant policies. Corporate cards currently not in scope.