For months we eagerly anticipated Samsung's annual Unpacked event. You see, we had a sneaky feeling they'd do something extra special for us this year. They didn't disappoint.
While Samsung's last couple of S series releases were very impressive, the Galaxy S20 range sets a new standard.
This isn't an iterative update of past glories. This is something new, bold and exciting. Put simply, the Galaxy S20 range is Samsung's best smartphone family to date.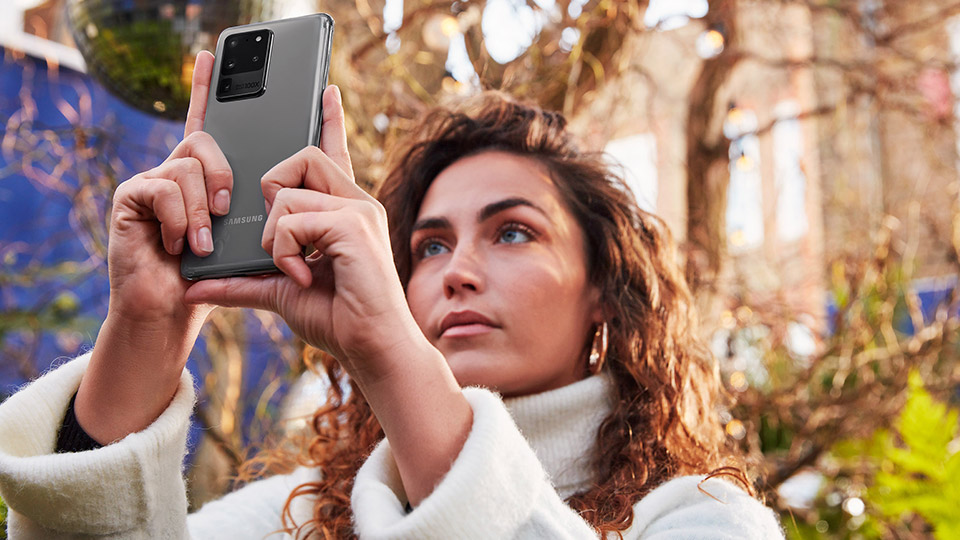 Samsung Galaxy S20: what's new?
There will be three versions of the new Samsung Galaxy S20 range, which will also be available in different colours and storage capacities, with varying processing power and different connectivity capabilities.
For example, the Samsung Galaxy S20 will be available as a 4G-only phone and in a 5G variant. It's the most compact phone in the line-up, sporting a 6.2-inch Infinity-O display with a tiny punch hole at the top of the screen for capturing 10MP selfies. On the back there's a 12MP ultra-wide camera and an incredible 64MP telephoto lens that lets you take photos with up to 30x zoom.
What's more, the 120Hz display gives you the fastest, most fluid experience ever on a Samsung phone – making scrolling through webpages, opening apps and playing hi-res games feel silky smooth.
The phone's powered by a hefty 8GB of RAM (6GB on the 4G version) and comes with 128GB of internal storage, which can be easily increased by popping in a MicroSD card (sold separately).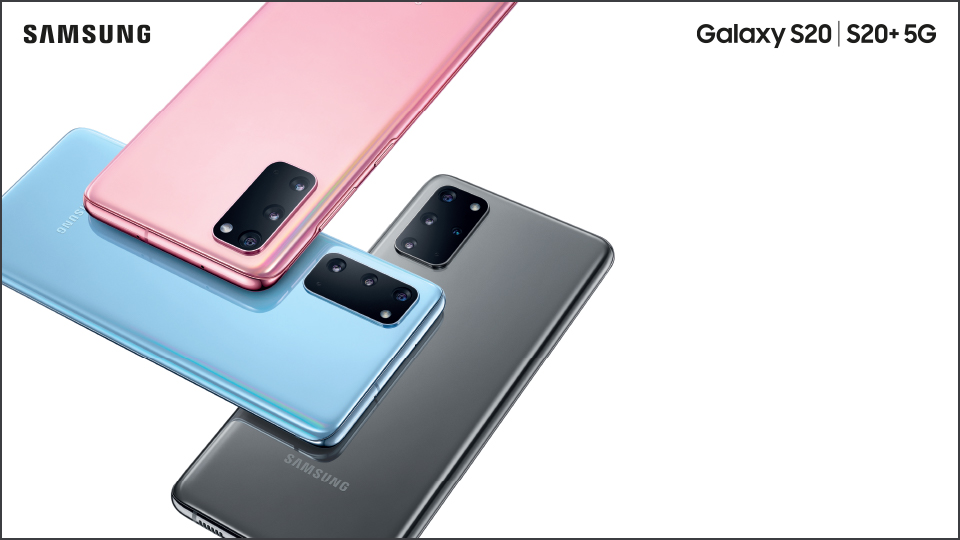 The Samsung Galaxy S20+ 5G has everything the Galaxy S20 has, but with a few tempting extras. The most noticeable difference between the two phones is the size of the screen. The Galaxy S20+ 5G packs in a 6.7-inch Infinity-O display that supersizes your films, photos and webpages. If you regularly stream sports, play games or watch the latest episodes of must-see shows on the move, you'll really appreciate that extra screen real estate that boosts and boldens your multimedia.
There's 128GB of storage onboard and a bigger battery under the hood, so you can enjoy the 6.7-inch display without having to reach for the charger.
Then there's the Samsung Galaxy S20 Ultra 5G – a superstar smartphone with features and specs that really raise the bar.
The Galaxy S20 Ultra 5G has a slightly larger Infinity-O display than the S20+ 5G, measuring in at 6.9 inches – Samsung's largest ever Infinity-O display.
But it's the cameras that really steal the show. We're talking an astonishing 108MP wide camera alongside a 48MP telephoto lens and a 40MP front-facing camera. 108MP is not a typo – it really can take 108-megapixel images for incredibly detailed photos. What's more, you can zoom into images up to 100x using the Space Zoom feature, giving you the power to totally transform the way you view images – you now have the ability to make every minor detail look epic.
Of course, the Galaxy S20 Ultra 5G has all the other great features found on the Galaxy S20+ 5G and Galaxy S20, including a 120Hz display for super-smooth scrolling and gameplay. But being the Ultra version of the S20 line-up, it also comes in a version with 16GB of RAM and 512GB of internal storage, as well as the largest battery capacity ever on a Samsung Galaxy smartphone.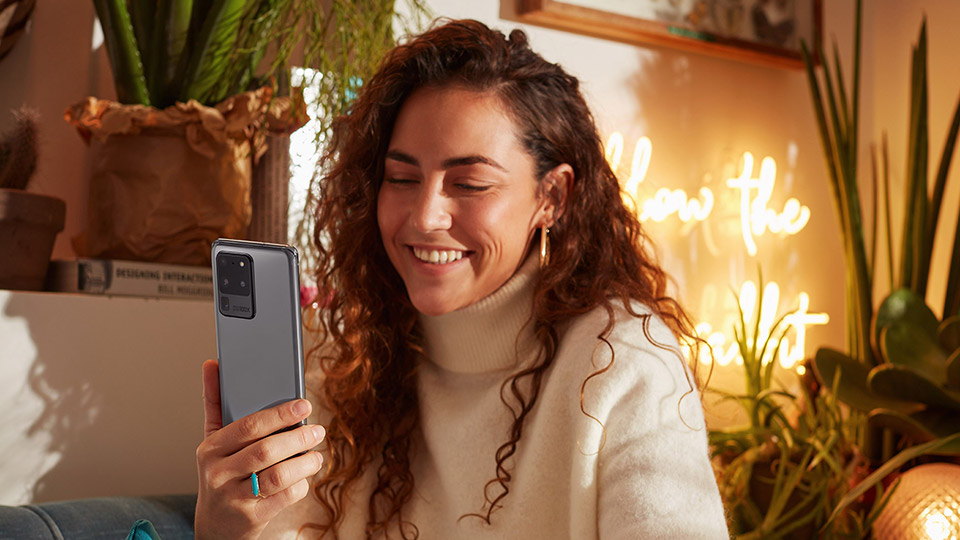 8K video recording and Single Take photos
With the Galaxy S20 range, it's clear that Samsung has set its sights on the coveted 'King of the Cameras' crown. Night Sight has been improved so that low-light shots and videos shine, the pixel count has been pushed right up to capture much more detail and with a 100x Space Zoom the S20 Ultra 5G, you can get closer to your subject than ever before.
But it's not just photography that's been given a makeover. The entire Galaxy S20 series features 8K video recording at 24 frames-per-second, giving you the power to create your very own mini-movies that look incredible on the big screen. With the Single Take feature, you can record a video then easily turn it into 33MP stills or take a photo in multiple modes at the same time, such as a wide angle and live focus, so you don't have to fiddle around with the settings before you take the shot (potentially missing that magic moment).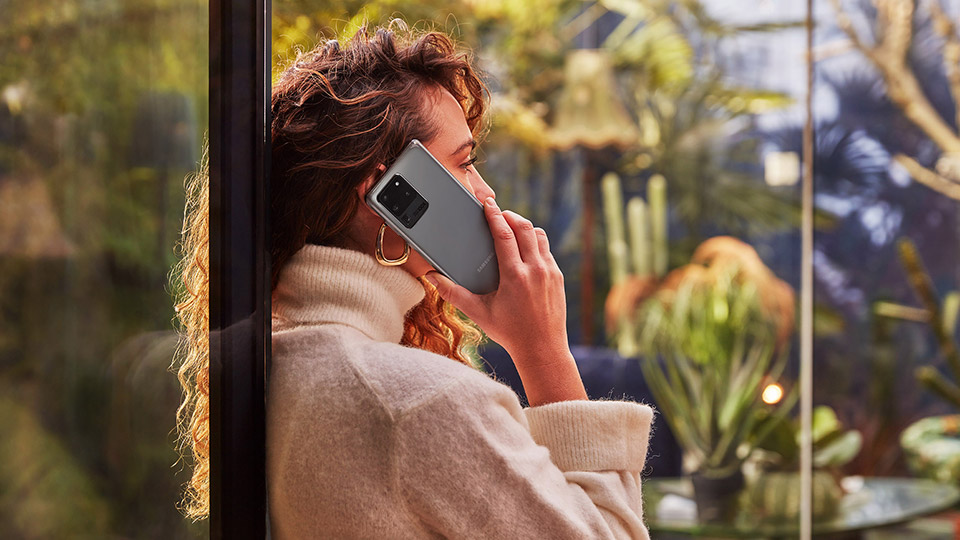 This is a game-changing smartphone line-up.
Like the sound of the Samsung Galaxy S20 range? Buy your Samsung Galaxy S20 now 

5G is fast. Faster than anything you've seen before. But
what are the facts and figures behind the (mightily impressive) headlines? If
you've been wondering what 5G speeds you can achieve on the UK's number one
network, or how fast you can ping data over the 5G airwaves, we've got the
answers.
Here's everything you need to know about 5G speeds.
How fast is 5G in
Mb/s?
Up till now, we've tended to talk about download speeds in
megabits per second (Mb/s). The more Mb/s, the faster your speed. With 4G on EE,
average download speeds are around 30 Mb/s.
5G takes things to a whole new level – we'll even need a new
abbreviation. That's because 5G speeds could reach 1000 Mb/s – or 1 gigabit per
second (1Gb/s).
How fast is 5G in the
UK?
The magic number of 1Gb/s will require all our 5G
infrastructure to be up and running, and we're still in the early days. But
with a 5G phone and 5GEE plan, right now, you can expect maximum download
speeds of around 100 Mb/s in some of the UK's busiest cities and towns.
Find out when 5G is coming to your area > https://ee.co.uk/why-ee/5g-on-ee/5g-uk-coverage
Is 5G really that
much faster than 4G?
When 4G first hit the UK, it was a revolution. 4G speeds made so
much possible – so many of the apps we rely on today, from those that help us
hitch a ride to booking a holiday, wouldn't work without it.
5G isn't a replacement for 4G, but it adds another level.
All wireless communications take place over radiofrequencies. 5G
mainly uses higher frequencies than 4G, and it's those higher frequencies that
make 5G faster.
What frequencies does
5G use?
Our 5G network is currently using frequencies around 3.4
gigahertz (GHz), while our 2G, 3G and 4G networks use frequencies ranging from
around 800 megahertz (MHz) to 2.6 GHz.
Is 5G faster than broadband?
With such impressive 5G speeds, you might be wondering if
you still need conventional (fixed line) broadband? Should you embrace the
mobile revolution and opt for a 5G router instead?
A 5G router could be a great option if you're in a 5G area
that doesn't get great fixed line broadband, because 5G WiFi could give you
equivalent speeds to ultrafast fibre broadband (that's over 300 Mb/s).
Find out more about 5G WiFi > https://ee.co.uk/broadband/pay-monthly-mobile-broadband-gallery/htc-5g-hub-details
I'm convinced! How do
I get a 5G phone?
We have the latest 5G phones and a great range of 5G plans
to take care of all your data needs.
Buy a 5G phone > https://ee.co.uk/why-ee/best-5g-phones