Sounds simple, but check you've connected an aerial cable between your aerial and the IN socket on your EE TV.




If you're using a wall socket, please use the aerial cable and aerial adaptor (if needed) to connect to the IN socket.







If EE TV has worked before, make sure the cable hasn't become loose and that it's still in good condition.
 
Check your TV aerial
We recommend a rooftop aerial, as the signal may be too weak from an indoor or mobile aerial for you to get a good quality picture or the full range of channels. They can also be affected by other electrical devices in your home. If this is your only option, try moving the aerial as high as possible and as close to a window as you can.
Old or faulty aerials or aerial cable are also common causes of digital TV problems. If you need expert help, we recommend you use an installer registered with either:

Boosters, attenuators and splitters
If you've got a booster, attenuator or splitter connected to your aerial, try removing it as a test (if it's not installed on your roof). If this isn't possible, try turning down the gain and see if this helps. A booster may be causing some disturbance to the signal in strong signal areas. The effect can be the same with a splitter in weak signal areas.
 
Connector, cable, and STB port condition (physical damage, rust, water damage)
If there's damage to any of the connectors, cables or ports you may need to get them replaced.
 
Is the aerial pointing in the right direction?
Is your aerial pointing in the same way (horizontal or vertical) as your neighbours' aerials? If not, this might be the issue.
 
Is it a wall socket or direct cable connection
If you're connecting to a cable coming out of the wall, check if the aerial connector on the end of the cable is loose. Use the cable supplied, if possible.


Signal levels
Signal levels are important (Strength & Quality). You can check this from your EE TV box:
press MENU on your remote.
use the arrows to go to TOOLS & HELP > SETTINGS > TV SIGNAL & QUALITY

go to RECEPTION INFO and press OK
both Strength and Quality should be at least 60%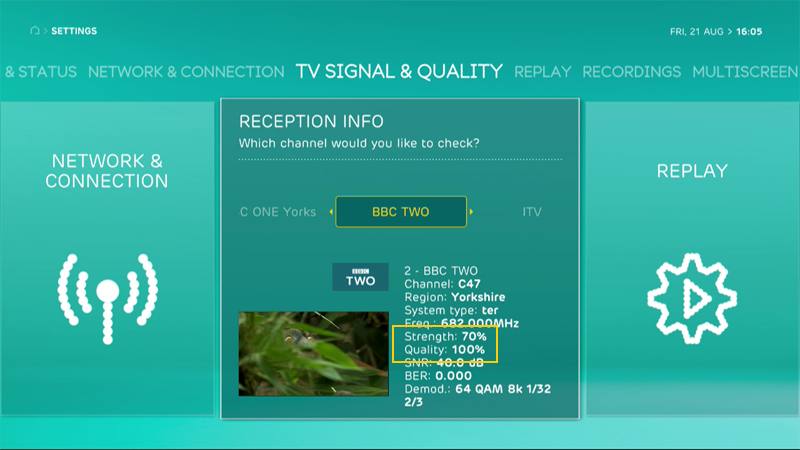 BER (Bit Error ratio) should be at zero, if it's more there may be a problem between your EE TV box and the aerial on your roof – check all connections and wiring that you can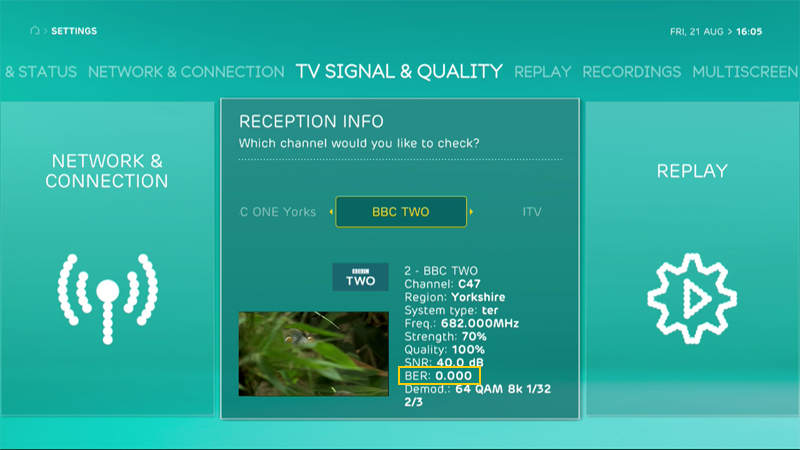 Re-scan your EE TV channels
If you've just fixed a problem with your aerial cable set up or you've bought a new aerial, you may need to re-scan your EE TV channels.
Still having problems?
It may be an issue with your digital TV coverage, a temporary outage, the weather or other issues in your area. Find more help.