Using your EE TV remote control
Your EE TV remote buttons
Your EE TV remote buttons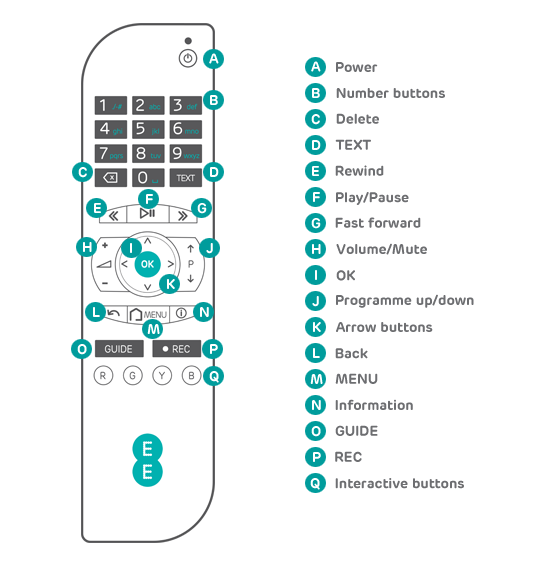 A – Power: Put EE TV in and out of standby mode.
B – Number/letter buttons: While watching Live TV you can press 101 to watch BBC HD, for instance. For letters, press 3 twice to enter the letter E for example.
C – Delete: Remove the last letter or number you typed.
D – TEXT: View any interactive content available for the channel you're watching. Press again to close.
E – Rewind: Rewind live, recorded or paused TV. Press more than once to change the speed.
F – Play/Pause: Play or pause live or recorded TV. Or start a highlighted programme from your Live TV, TV Guide, Recording or Replay menus.
G – Fast forward: Fast forward recorded or paused TV. Press more than once to change the speed.
H – Volume: Use the up and down buttons to control the volume on your EE TV box.
I – OK: Confirm your choice from the EE TV menus.
J – Programme up/down: Change the channel up and down.
K – Arrow buttons: Navigate your EE TV menus. Press the up arrow while watching TV to open your channel bar menu. Press left and right arrow to open your timeline menu so you can browse what's on and what's coming up without changing channel.
L – Back: Go back while navigating through your EE TV menus or TV Guide.
M – MENU: Return to your EE TV home screen.
N – Information: More information about the programme you're watching or have highlighted in your TV Guide.
O – GUIDE: View your TV Guide.
P – REC: Record while you're watching TV, or from your menus.
Q – Interactive buttons: Use the red, green, yellow and blue buttons as shortcuts to move through interactive content.
Remote shortcuts
Remote shortcuts
Mute – Press and hold the volume down button to mute your EE TV box.
EE TV app for your phone or tablet – The EE TV app lets you watch Live TV, your Recordings and Replay content on your phone or tablet. You can even flick it to your TV to watch. Download the EE TV app > 
The play button – While navigating your menus, use the play button to watch a programme straight away.
Speed up your TV remote – Use these shortcut buttons on your remote:
P+ or P- moves the page up or down

Fast forward moves your TV Guide forwards a day

Rewind moves your TV Guide back a day (great if you want to watch Replay content)

Play lets you watch the programme straight away

OK shows options for the programme to include play, set up a reminder, Record and Restart
Free to pay monthly
25p per call on pay as you go
Ask questions and share tips with other people 24 hours a day
Type in your postcode to find your nearest store.

You can book an appointment to meet one of our experts in many of our stores.
Something went wrong. Please try again later
We cannot identify your location. Please enter your postcode below